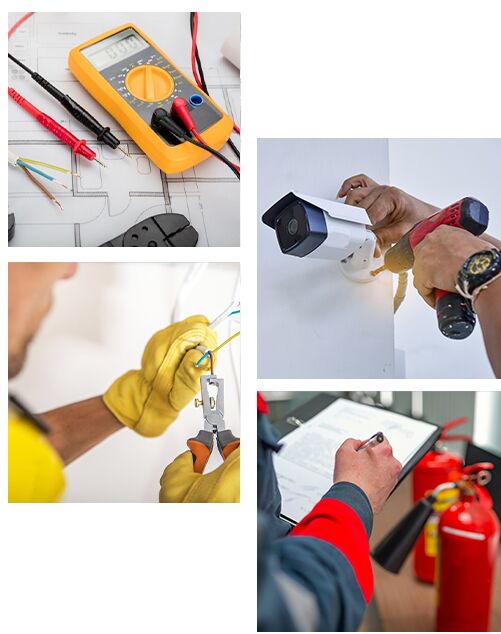 WE HAVE THE POWER TO CONNECT
About ActionTek
ActionTek is a provider of professional technical services including HVAC & air conditioning, CCTV and security alarms, electrical wiring and certificates, data & networking, fire alarms and access control. We provide a blend of knowledge, experience and technical excellence in delivering customized solutions that meet the needs of our customers.
Our customer-centric team is made up of talented and experienced engineers, technicians and sales professionals. We understand complex technical challenges and help our customers see past them. Thousands of successfully delivered projects on the residential, retail, office and industrial sectors attest to the quality of our service and the professionalism of our staff.
We are fully certified and accredited, adhering the highest technical and security standards. All team members are regularly trained and up to date with the latest product developments.
Working with excellence
Quality and Reliability
We provide solutions to protect your home and business.
Electrical wiring, rewiring and three phase
Improve the energy performance of your property and reduce costs with our electricity solutions.
Industrial Controls and Automations
Increase productivity, performance and quality with our innovative industrial control and automation solutions.
Electrical certifications and reports
Ensure the safety and compliance of electrical systems with our accredited certificates and condition reports.
PAT Testing and Certificates
Ensure the safety of your electrical equipment with our licensed PAT testing certificates.
Accelerate your company's digital transformation with our custom data and networking solutions.
Complete HVAC solutions dedicated to safety, comfort and energy efficiency.
Prevent property damage with our high-quality, innovative fire detection systems.
Ensure the security of your property with our professional alarms and video monitoring systems.
Access control & Intercoms
Our access control and intercom systems provide an enhanced sense of security, safeguarding your property and assets.